Ivar's Night
Make plans to enjoy great seafood at
Ivar's
and earn money for Glenridge. Twenty percent of all sales go to our school! Thursday,
January 31st
5:00-7:00 pm at
25405 104th Avenue SE
. Teachers and staff members will be there serving food and selling cookies. Come support Glenridge and visit with friends.
Don't forget to invite friends, family, neighbors, and coworkers!

Help at the Book Fair!
Volunteer at the Fall Scholastic Book Fair. We need volunteers to:
Help with displays, decorations, and signs - Ongoing project to be completed by February 8th.
Help set up the afternoon of February 8th
Help students shop, shifts available February 11th - February 14th
Help pack up the afternoon of February 14th
SIT Meeting

Meet in the library for the School Improvement Team (SIT) meeting

February 5, 2019
4:10 pm - 5:10 pm

Impact your child's education.

The

PTO Meeting

has been canceled for February, however, the dance committee will be meeting to discuss plans. If you'd like to be part of the team please contact the

PTO

.

Popcorn Friday

Friday, February 1st, popcorn will be sold during afternoon recess. Remember to send 50¢ to school. Please send exact change, it will help the process move faster and give students more time to enjoy their popcorn. Money raised will support Glenridge programs.
Glenridge PTO Drama
Mark your calendar now.

Stay up to date on all things Drama by joining the Drama Club Facebook group and our class on the Remind app (code: grptodrama). In order to make this year's production a success, we need everyone to pitch in. Check the list on SignUpGenius.com and see where you can help.

Rehearsals take place every Tuesday and Thursday at 4:05 pm - 5:30 pm for the whole cast
Wednesday at 2:05 pm - 4:00 pm by invitation only, until we return from Presidents Break
Performances will take place April 4th and 5th
Please make sure to bring a snack to eat right after school, your script, a pencil, highlighter, and water. Transportation is not provided, please make arrangements for your student now.
Choose Kind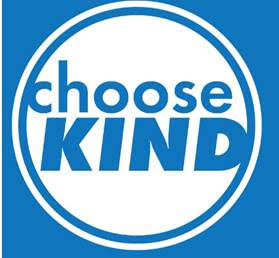 Please wear your Choose Kind shirts every Wednesday to support school unity, the inclusion of all, and our goal to increase kindness across our school.
Tops and Tails
All Box Tops and Tails (dimes) are due January 31st! The class that collects the most will win a prize delivered to their class during their February friendship/ Valentine party. Return your Box Tops and your dimes to your teacher or the Glenridge office in an envelope, bag or on attached to the flyer that was sent home marked with your name and the name of your teacher. Check your panty and ask your friends and family for theirs today!
Heath Room
The Health Room is running low on clothes they usually have on hand. Please return borrowed items.
Donations are welcome! Small and medium sweatpants are most needed.

January 28
• No School ~ Teacher Work Day
January 29
• 4:00 pm - 5:00 pm ~ Reading Club
• 4:05 pm - 5:30 pm ~ Drama Rehearsals
January 30
* Choose Kind Spirit Day
• 2:05 pm - 4:00 pm ~ Drama Rehearsals
January 31
• 4:00 pm - 5:00 pm ~ Reading Club
• 4:05 pm - 5:30 pm ~ Drama Rehearsals
• 5:00 pm - 7:00 pm ~ Glenridge Ivar's Night
February 1
• Popcorn Friday 50¢
• 8:10 am ~ Voyager Choir Practice
• 4:00 pm - 5:00 pm ~ STEM Club
February 5
• 4:00 pm - 5:00 pm ~ Reading Club
• 4:05 pm - 5:30 pm ~ Drama Rehearsals
* 4:10 pm - 5:10 pm ~ SIT Meeting
February 6
* Choose Kind Spirit Day
• 8:40 am ~ Student Council Meeting
• 2:05 pm - 4:00 pm ~ Drama Rehearsals
February 7
• 4:00 pm - 5:00 pm ~ Reading Club
• 4:05 pm - 5:30 pm ~ Drama Rehearsals
February 8
• 8:10 am ~ Voyager Choir Practice
• 1:00 pm - 5:00 pm ~ Book Fair Set Up
• 4:00 pm - 5:00 pm ~ STEM Club
February 13
• Choose Kind Spirit Day
February 15
• 8:10 am Voyager Choir Practice
February 11- 13
• Parent Teacher Student Conferences
February 11- 14
• Scholastic Book Fair
February 11 - 15
• 12:55 ~ Early Release
February 18 - 22
• No School - Presidents Break